Have a look below at just some of our favourite dive sites that the club visits. This is by no means an exhaustive list but just a teaser of what our members have the opportunity to see. The photos themselves have all been taken by our keen dive photography members out on club dives from all around Western Australia.
Rottnest Sites
One of the most popular dive sites around Rottnest with brilliant limestone reef systems and elaborate swim throughs. It was named Crystal Palace because divers noticed that when someone was diving through the reef their bubbles would bubble up through the holes like crystals.
Ave Depth: 10-12m
Max Depth: 18m

A wall dive spanning east to west of which the top of the wall sits in about 5m and the bottom at 10m. It is quite common to see dozens of crayfish huddling together along the cracks in the wall.
Ave Depth: 10m
Max Depth: 15m

Don't let the name of this dive deter you from seeing this beautiful site. The reef lump is situated in a sanctuary zone and is home to several friendly grey nurse sharks and dozens of other fish species. Divers sit outside the entrance of the cave and the sharks swim out to see what's making all the noisy bubbles.
Ave Depth: 17m
Max Depth: 20m

This site is popular as a recreational lobster hunting ground. It is characterised by tight swim throughs and many little holes. Go to the west side of the site and take a look at the massive limestone arches!
Ave Depth: 12m
Max Depth: 16m

The North Point Reef is a very unique limestone reef structure in the Rottnest area which is in the shape of a 8m deep trench about 3-4m wide. As you swim through the valley have a look above you and see the rays of sunlight shine through.
Ave Depth: 18m
Max Depth: 26m

Port Jackson Getting Cleaned By Cleaner Shrimp - Crystal Palace
Video by Adam McKenzie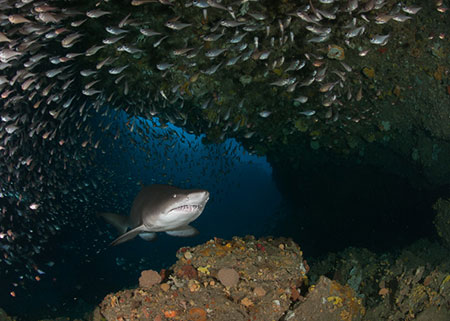 Grey Nurse Shark - Opera House
Image by Volker Vierecke
Shore Dives
Located around the corner from the Woodman Point Public Boat Ramp, Ammo Jetty is a popular site for it's wide variety of macro life. Look closely for little hermit crabs, baby eels and keep an eye out for the resident sea lion. There are plenty of octopus around too! Wiggle your fingers in front of one and usually they will reach out and touch you. Why do they do that?
Ave Depth: 6m
Max Depth: 9m
Unlike ammo jetty, the Robb St jetty is just the broken pylons of a demolished structure. There is still plenty of life about though and you will most likely find a baby octopus or cuttelefish hiding in the holes! A unique feature of this site is the number of glass bottles strewn about on the seabed which makes for some funny photo moments.
Ave Depth: 6m
Max Depth: 8m
This is a popular site for courses because of it's depth and ease of entry for divers. There are several purpose sunk wrecks connected by ropes which have been inhabited by all sorts of marine life. Be careful you don't touch the lionfish!
Ave Depth: 12-15m
Max Depth: 17m
Being a Grade A marine santuary zone makes this an absolutely amazing dive site. The entry is a little difficult especially when there is a bit of swell but it is well worth it! There are plenty of crayfish, Port Jackson sharks and cuttlefish to see. Bring a torch to check out what's inside the little crevices. You'll never know what you'll find!
Ave Depth: 5m
Max Depth: 7m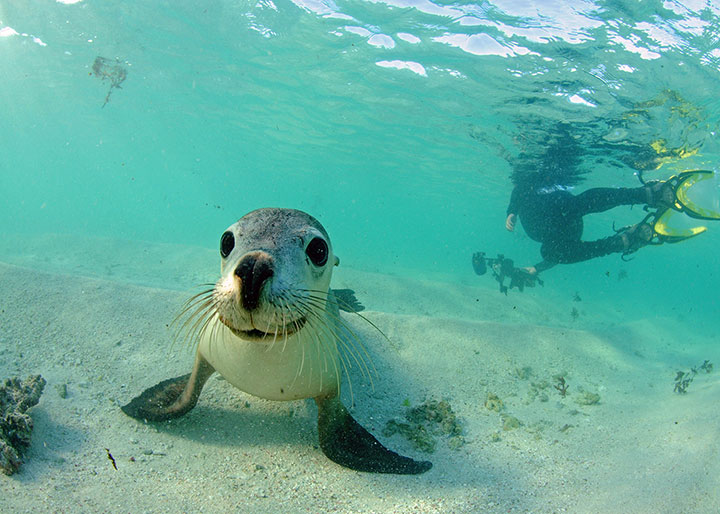 Curious Seal pup
Image by Volker Vierecke
Colourful Sea Fans - Elizabeth Reef Cottesloe
Image by Phill Lau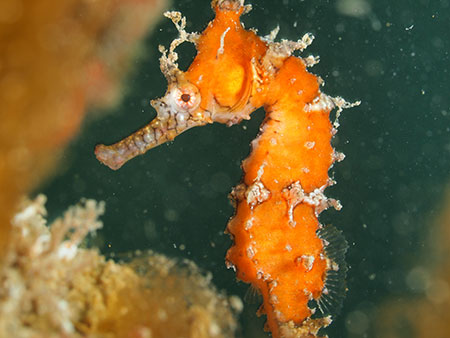 Sea Horse
Image by Bryon Begovich
Special Sites
Rottnest's pinnacle dive site characterised by a giant cavern reef structure comparable to the Australian landmark it was named after. It is home to thousands of schooling bullseye fish and several friendly grey nurse sharks. Don't scare them away!
Ave Depth: 30-33m (advanced)
Max Depth: 34m

A purpose sunk ship for divers off the coast of Dunsborough, the HMAS Swan is over 100m long and 20m wide. It sits upright and many holes have been cut in the side so that you will always see an exit when penetrating. You will need a few dives to see everything on this ship. Make sure you have a look around the mast for the school of beautiful batfish
Ave Depth: 18m
Max Depth: 31m

The UWA Underwater Club is the only dive club in Perth that has ventured beyond the west side of Rottnest and explored the Ship's Graveyard. Take a look at some of the footage taken from the 58m "Shallow Wreck" and 65m Clipper Wreck.
An oil platform accidentally sunken due to rough weather it's structure is now home to dozens of fish species.
Ave Depth: 32m
Max Depth: 42m

The SS Orizaba used to be a 3325 tonne Liner and is probably the best wreck dive in Perth metro waters. Weather has reduced much of the structure however you can still see an impressive steering gear on the eastern end of the site.
Ave Depth: 12m
Max Depth: 12m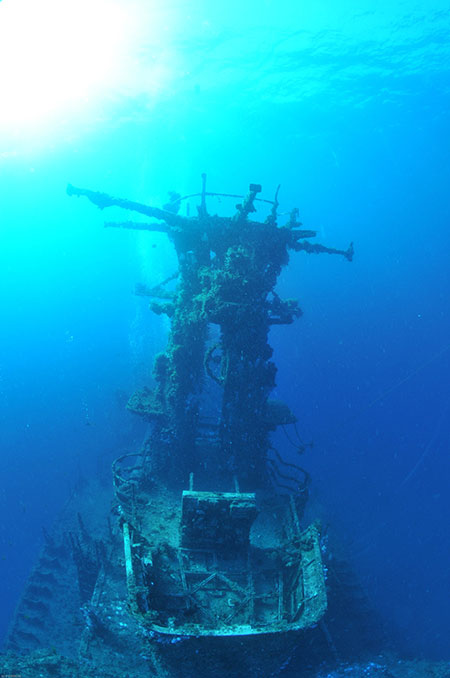 HMAS Swan - Dunsborough
Image by Volker Vierecke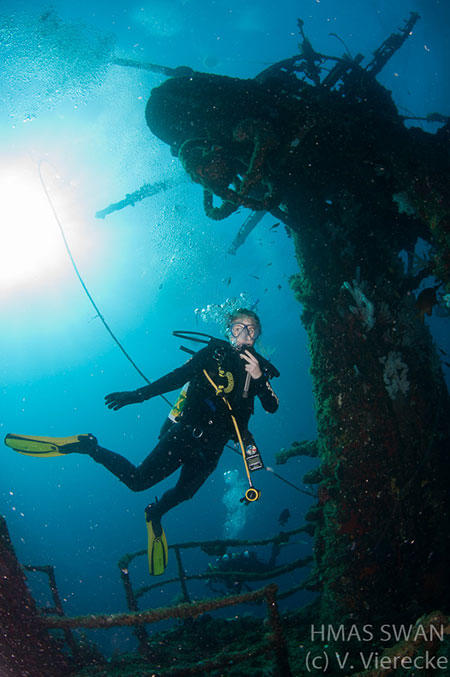 HMAS Swan - Dunsborough
Image by Volker Vierecke
Top: 65m Clipper Wreck - Ship's Graveyard
Bottom: HMAS Swan - Dunsborough
Videos by Tom Buchan