The UWA Underwater Club (UWAUC) has been operating since 1968 and has steadily built up its resources to be one of Western Australia's largest scuba diving organisations. The club is affiliated with UWA Sports and the UWA Student Guild and was formed with an aim to provide safe and affordable diving and dive related activities for both students and people of the wider community. Members have the opportunity to dive on Western Australia's premiere dive sites all along the coast and being a university affiliated club means that we have student prices - however you don't have to be a student to join! In fact you don't have to have anything to do with UWA or any other university at all. The only requirements are that you are keen to dive and want to have fun - we welcome young and not-so-young new and experienced divers.
Our dive boat, Chromodoris is named after the common nudibranch found in our Perth waters and is a popular marine animal among our dive club members. Chromodoris is an eight metre Polyrib and it can carry eight divers comfortably. With a maximum of only eight divers on board you'll have plenty of deck space and it will never be crowded under the water. Our boat heads out (usually to Rottnest) whenever there are divers wanting to go and an available skipper ready to drive! It is also fully equipped with all the appropriate safety equipment (Oxygen, EPIRB, First Aid Kit, Flares and lifejackets) required for day trips to rottnest. The club has previously owned Tantabiddi which was an eight metre aluminium boat and towards the end of 2015 "biddi" was passed onto a new owner. The club has a large catalogue of great dive sites that we have collected over the years and most of our skippers have many years of experience diving locally and are able to give a good site brief.
Click here to start diving!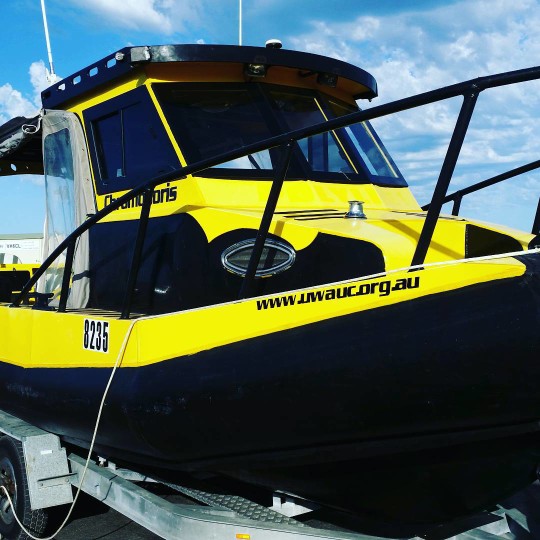 ---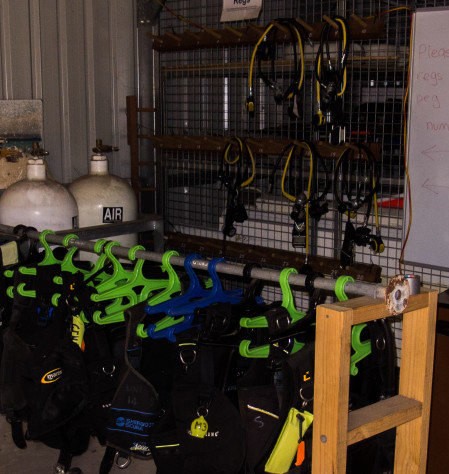 Our Hire Gear
We maintain complete sets of scuba equipment and these are loaned at awesome rates to our club members. Almost all the regs have dive computers and all the equipment is monitored and serviced regularly. We have everything you need to come diving with us. Equipment is usually available for hire from our shed at 6:30pm on Friday, Saturday and Sunday evenings however as the shed is run by volunteers "on-demand" no one will attend the clubrooms unless they are contacted so don't be shy! Send them an email or pick up the phone to make sure the rostered volunteer is opening the shed if you need gear. Check the roster list or our facebook group to see which roster volunteer will be at the clubrooms.
Here are a list of some of the benefits you will get for being signed up as a member:
The cheapest equipment hire in Perth
The cheapest boat trips in Perth (happens almost on a weekly basis if weather permits)
Access to the club calendar where you can book onto trips, courses and post your own dives and get togethers!
Extended dive trips to remote dive sites around WA and overseas
Meet people who have come from all over the world with a similar passion as you do!
Dive with people who have had hundreds of diving experiences
Discounts at affiliated shops around Perth
The opportunity to do courses offered by freelance instructors in the club
If you have the right certification you can even join tech diving expeditions on dives to the Rottnest Ships Graveyard!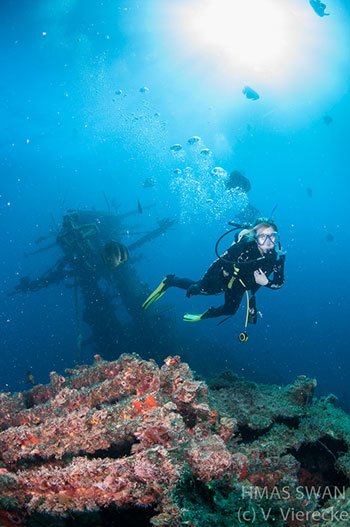 Social Meetings
---
The club maintains an active social life with monthly gatherings on the evening of the first Wednesday of every month. Keep an eye out on our facebook page and email list for where our monthly gathering is being held and come down with your dive buddies! You don't have to be a member to join the socials and it's a great way to see what the club is all about! Usually we go to a quiet bar to have steak, chips and/or a beer together and everyone normally heads home before 9. We also have barbecues, social shore dives, occasional presentations of diving related stuff from key speakers and much much more!
Join our mailing list to stay in the loop or chat with people in our facebook group!

Post dive deco beers at The Rottnest Hotel
Image by Jerome Yong
Club Faces
---
Meet some of the people that make our club great!
Simon (Captain Starfish) Lockwood
Skipper, Rebreather pilot, Life member
Remember Davy Jones from Pirates of the Caribean? Well you might find him on our club boat! Captain Starfish is a very active skipper and is a cornerstone member of the dive club. His favourite dive gear is his heavily modified AP diving Inspiration Classic rebreather and Seaskin Drysuit. When he takes the boat out he likes going to dive sites with lots of caves and crayfish around and in his free time he likes to take apart stuff and put them back together again.
Volker (Volkswagen) Veirecke
Skipper, Photographer, German Sausage Enthusiast
There probably isn't a single dive site in the world this man hasn't seen. You name it, he's been there! Volker is a pleasure to be on the boat with and underwater you will see him gliding effortlessly through the water with his long green freediving fins. Above water you will often find him holding a Heineken in one hand or on the way to a pub. His favourite dive gear is his 3L pony bottle marked with a screaming alien and "NIXMIX" sticker. When he takes the boat out he likes going to dive sites such as the Opera House or sites shallow enough for a swim and snorkel.
Pia Claudius
Skipper, Pink Gear Enthusiast, Life Member
If you have ever noticed a lady on the boat with all pink gear and wondered who that was that would be our Pia! Pia is a very good boat skipper and it isn't hard to spot her underwater with all her fluro pink apparel. Pia is a cornerstone member of the club who has been around since the clubs early days. She is the person who is always there behind the scenes supporting committee members and fills in the gaps whenever it's needed. When she takes the boat out she likes going to shark cave and the parker point drop-off.
The K***
Skipper, Rebreather Pilot, Depth Junkie
If you see a man with his gear being portered around by a student member or two that would be The K***! This guy finds diving relaxing and has been certified to dive to 100m on open circuit. He has a strong emotional attachment to his double ender clips and gets grumpy when his drysuit leaks. When he takes the boat out he likes going to deeper dive sites such as the Opera House or North Point Reef. He is fascinated by nudibranchs.