---
Each year the UWA UC offers a range of trips for its members. The costs indicated are approximate and may vary, but they include just about everything! Being able to tow our boat places makes these trips accessible and economical. This is a very cheap way of diving in different and spectacular places, plus you get to meet some pretty cool people in the club. Trips are a must!

Check our Calendar, join our mailing list or you can also visit our Facebook group for the latest trip information.
HMAS Swan Crows Nest
Image by Volker Vierecke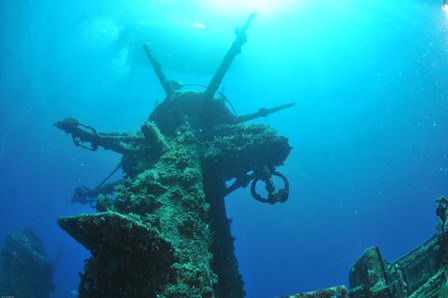 Regular Trips
---
The table below shows just some of the regular trips that the club organises along with an average cost of each trip. Usually, everybody on a trip is allocated to a trip role (for example chefs, tank fill runners, skippers and food shoppers) and accomodation is arranged with hostels or large share houses. This is how the club manages to keep the costs for these trips right down so all members can maximise enjoyment out of the diving with minimal pain to our wallets.
| WHERE | WHEN | HOW LONG | APPROX. $$ |
| --- | --- | --- | --- |
| Esperance | March | 9 days | $750-$800 |
| Albany | Easter | 4 days | $250-$370 |
| Exmouth/Ningaloo | June/July | 9 days | $650-$850 |
| Abrolhos Islands | January | 4 days | $700-$800 |
| KEY BISCAYNE (Lancelin) | All Year | 3 days | $150-$180 |
| HMAS SWAN (Dunsborough) | All Year | 3 days | $250-$350 |
Please be sure to read our trip cancellation and refund policy

If you missed out on the trip you wanted, don't despair get in quick for the next trip - or even better organise it to ensure yourself a place! Other trips with exciting dive sites are available for the rest of the year. The UWAUC is always looking for new faces to organise trips, and it is a great way of meeting people. The easiest ones to organise are trips to Esperance, HMAS Swan, Key Biscayne or HMAS Perth - get in touch with us for more information.