We maintain complete sets of scuba equipment and these are loaned at awesome rates to our club members (see below). Almost all the regs have dive computers and all the equipment is monitored and serviced regularly. We have everything you need to come diving with us. Equipment is usually available for hire from our shed at 6:30pm on Friday, Saturday and Sunday evenings however as the shed is run by volunteers "on-demand" no one will attend the shed unless they are contacted so don't be shy! Send them an email or pick up the phone to make sure the rostered volunteer is opening the shed if you need gear or need to return anything. Check the roster list or our facebook group to see which roster volunteer will be there!
Please give the volunteers as many days' notice as possible. Contact before midday the day of collection at the LATEST.
Our club shed is located behind the UWA Hockey Pavillion off McGillivray Rd in Mount Claremont.
Click here to see a map of the Club Shed
Note: You must be a member and show your dive certification and UWAUC membership sticker every time you hire gear out. Sign up today!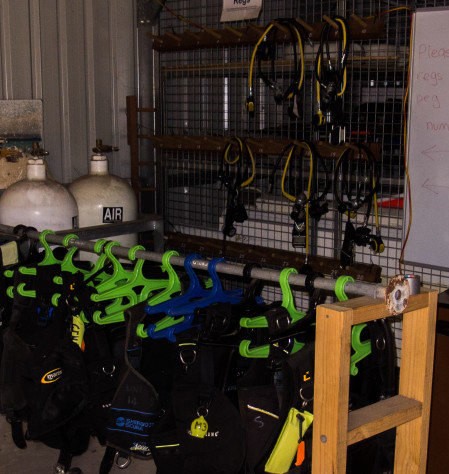 Equipment Sets

PER DAY

FM Set

Fins/Boots + Mask/Snorkel

$10

WW Set

Wetsuit + Weight Belt

$15

1Tank Set

BCD + Reg + 1 Tank + Bag

$20

2Tank Set

BCD + Reg + 2 Tanks + Bag

$23 ( $20 with boat dive )

Shore Set

1Tank Set + FM + WW + Dive Flag

$35

Boat Set

2Tank Set + FM + WW

$40 ( $35 with boat dive )

 
 

Individual Items

 

BCD / Computer Reg Set / Wetsuit

$ 10 each

Weight Belt / Mask&Snorkel / Fins&Boots
Safety Sausage / Dive Flag / Bag

$ 5 each

Tanks - must be returned FULL

$ 3 each
* The only payments currently accepted for gear hire are cash only or made via online bank transfer.
Notes:
Make sure you check your gear and tank pressure before leaving the clubrooms.
UWAUC does not hire out other accessories, such as torches.
Wetsuits, weightbelts and bags are limited. Members are advised to have their own.
If you notice any problems with the gear you hired please let the people at the club rooms know so that we get it serviced. By doing that the next person using the gear next won't get the same problems.
All gear is to be washed properly before being returned for the next person using it. Unfortunately there isn't any washing facilities at the shed at the moment.
Gear not returned by the due date will incur fines at the daily hire rate
Refunds are not given if you did not use the gear.
Sadly, until UWA provides power at the current shed location we cannot run our compressor. So when you hire tanks from us they will be full and you need to fill them before returning them. There are a number of easily accessible places to fill tanks.